テンカラのテクニック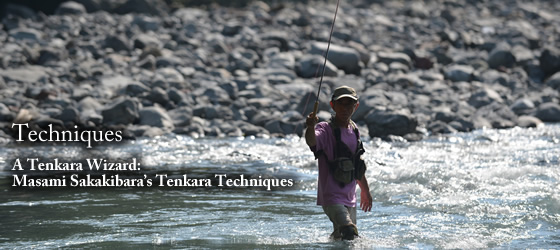 Positioning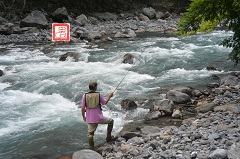 "You have to decide which fish in the river you want to catch first,
because that will dictate your positioning."
"You need to train your eyes so you can visualize where a fish would-
be in the river, and they won't always be in the most obvious of places."
Masami always emphasizes on understanding what goes on in the river.
In order to catch more fish, you must first understand their instincts.
"Before you enter a river, you must first position yourself so you have
a good view of it. Then you observe the currents, and look for that seam
where fish would most likely be.  That should give you an idea of where
you'll have to stand in order to present the kebari in the most effective way.
Imagine you're the fish and how you would see the kebari.  Then you think of
how you're going to present it, so the fish would respond."
This means you'll have to change your position for every fish you're going after.
Catching a fish is not enough for Masami.
It is how you catch it that brings the most excitement in Tenkara for him.
Did I hook the fish on the upper jaw? or on the bottom? "If my observations
were accurate and my presentation was proper, the fish would pounce on
the kebari and turn, then the kebari would hook on the side or the bottom of
the fish's mouth. If I hooked on the top jaw, I must have positioned myself
wrong, or the presentation was not great.  The fish must have sensed something
funny.  I failed to imitate nature with my kebari.
Sometimes I guess right, sometimes I don't, so I learn to grow."