テンカラ釣りのマナー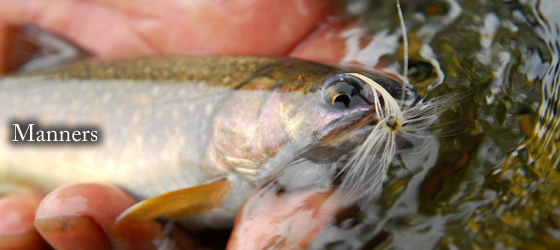 Mountain stream fishing seems to have gained significant popularity all over the world. That is wonderful news, but at the same time it means there's greater need for each individual to be respective to others and to the nature as well.
People arguing over a fishing hole or a parking spot… because everyone travels long way to get to a river and because they are passionate anglers, they ruin the day by getting into unnecessarily hostile situation.
Some anglers are so focused on fishing and  not enough on taking great care of the environment.  Fishing hooks and lines along with other garbage discarded by anglers create great hazard to fish, birds and other species of life that live in or around rivers.
There are general manners and etiquette our forefathers practiced to prevent these unpleasant situations.  Masami encounters "Guardian of the Forest" on one of his fishing outings, and remembers the things his father and grandfather taught him.