スタッフ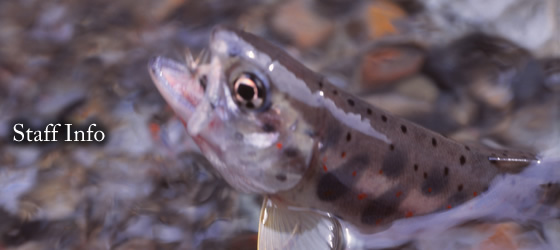 This site is managed by members of "Team Oni" and Masami's wife Kyoko.
We received tremendous support from many Tenkara fans from around the globe in the planning process and in creating this website.
We would like to thank Prof. Ishigaki, Mr. Horie, Mr. Kimura. Mr. Amano, and Mr. Sebata, who are all considered "Masters of Tenkara" in Japan for their wonderful contributions.  Mr. Kimura also helped capture amazing photography of Masami despite his busy schedule.  Our gratitude goes to another professional cameraman Mr. Yamaguchi, who helped us digitize hundreds of old photos and to Go Ishii, who translated extensive contents of this website even though it's not his profession.  Many thanks to Mr. Takuji Kawakita, for drawing the illustration used on this site.
We would also like to thank Itaryu san, Davide, Uberto, Valerio and the rest of our friends in Italy for persuading us to build this site.
Thank you all again!  We wish to meet and develop more wonderful relationship with everyone in the Tenkara communities throughout the world through this website!