Oni Blog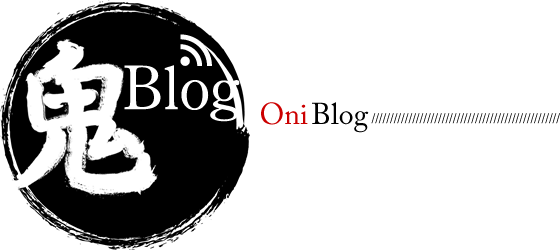 New Tenkara-no-Oni website!
Posted on | September 15, 2012
4 years have passed since Masami and his wife Kyoko started their "Tenkara-no Oni Blog" (Japanese only) in March 2009.  Members of Team Oni, and others who have seen Masami fish Tenkara before have always thought his remarkable techniques ought to be introduced to the world.
Despite his intense passion for Tenkara, he never had any interest in promoting himself. When he turned 60 in 2011 he said for the first time that he wished there was a way to preserve his Tenkara for those just picking up a rod, his students, and more importantly, for his wife Kyoko.  Kyoko has been a long-time Tenkara angler and was one of Masami's students at his Tenkara clinic.
On top of that when Masami went to visit Valsesia of Italy, he received many comments from Tenkara fans there that when they look up online, there was no site available from Japan that they could learn about Tenkara.  "Tenkara is a Japanese culture and tradition, so we want authentic information from the origin!"
It made a lot of sense to Masami and Kyoko.  Whether it's Judo, Karate, or Zen, anyone would want to get some information from "the source"… That was end of May so after 4 months of hard work, here we have it!  Kyoko and members of Team Oni (Oni's students) got together and made this happen.
Itaryu-san, a Japanese national living in Milan and also Davide, put in a lot of effort and made Masami and Kyoko's trip to Italy possible. They deserve great recognition for creating a "cause" to build this website.
In the hot and humid summer in Japan this year, Kyoko spent many hours covered in sweat going through Masami's storage sorting out old photos for the site.  Masami is a phenomenal Tenkara angler, but unfortunately he's not the best when it comes to organizing his stuff… Kyoko also worked as the "engine" that coordinated production of this website and she sacrificed most of the last 4 months devoting herself to make this possible.
Many of Tenkara experts made wonderful contributions to this site by writing about their experiences with Masami, which can be seen in "VoicesⅠ" section.
Professional photographer and an amazing Tenkara angler Mr. Kimura, took many of the images used on the site and Mr. Kawakita, an artist who also has his passion for fly fishing drew up the illustrations used on the site with very short notice.  There really was a tremendous amount of effort put in by everyone to create this site.
The site is not complete and it never will be, since we plan on adding more contents regularly. Through the Q & A section, we hope to receive questions from around the world, so we can interact and share Masami's Tenkara wisdom as much as possible.
Lastly, we would like to thank all of those who share the passion for Tenkara throughout the world, and we hope to send out all the information, as well as learning from you!
*From the translator:  Hi everyone!  My name is Go (unfortunately), and I would like to say that this has been a true privilege to be able to work with Masami and Kyoko in building this site.  I am not a professional translator and this was my first translation project so I can't say I'm confident with the result.  I do have to manage my own business during the day but I plan on translating all new contents in the future and get better with it in the process.   My goal was to make the translation interesting, yet easy for those from outside English speaking countries to understand.  Regretfully, we do not have the capacity to translate this site in languages other than English, but we hope you all enjoy the site. Thank you so much for checking it out!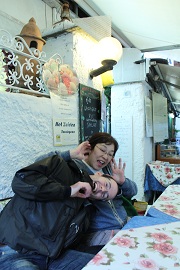 Kyoko with Uberto, our good friend in Italy
COMMENTS