証言1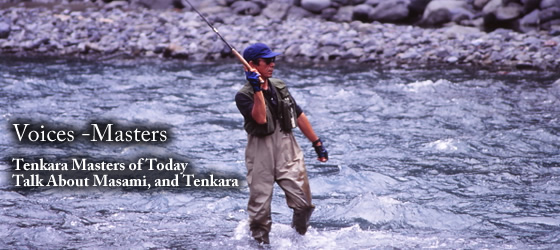 Keigu Horie
Pioneer of Modern Day Tenkara
Keigu Horie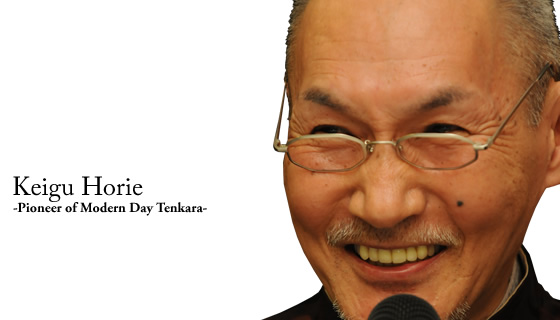 Born 1945 in Tokyo. Fishing and outdoors writer / columnist. Over 20 years of Tenkara career. Professional Tenkara Instructor with "Jyoshuya Group", the fishing retailer / manufacturer.  Has lead the Tenkara community in Japan for years with his "Cherish Every Catch" concept.  Has introduced his philosophy based on years of observing trout and aquatic life in many of his books and videos.  He is a long-time promoter of Tenkara and is credited for its popularity in Japan today.
Mr. Horie's Tenkara Tackle
Rod: Suzumi "Keigu" Special. 3.0m~3.5m
Casting Line: Western fly fishing lines 3.3m~7.0m plus tippet
Uses traditional kebari, western dry, wet, and nymph flies.
Masami Sakakibara.  A Man Known as "Oni " and His Tenkara Magic
Keigu Horie
Some years have passed since the fishing magazine "Salt & Stream", which I used to write for, went out of print.  Even though the processor of my brain seems to malfunction more as I age, I do not forget the day I first met Masami Sakakibara.  Actually, I remember even the smallest of details. My task was to cover Masami's Tenkara for a section of the magazine called "Tenkara Relations" (Tenkara Kouyuuroku).  As the title, the purpose was to connect with established and known figures of Tenkara.  It was an interesting project every time, because not only it was an opportunity for me to see different "Masters of Tenkara" fish in real life, I also was able to hear their philosophies behind their fishing. I witnessed everything each Master of Tenkara had to offer, and I would report them with pictures in the magazine.  It was a great project.
Oni – Man with Compound Eyes
One of the first to appear in the "Tenkara Relations" was Mr. Masami Sakakibara. I decided the title for this edition to be "Tenkara Magic in the Rivers of Tōyama."  Often times these titles are difficult to come up with, but this was an easy one.  Mr. Sakakibara's Tenkara was absolutely unbelievable.  I honestly thought I witnessed magic.  For Example, He's invented techniques that utilize wind.  Often times wind is as obstacle.  We'd rather not have it when fishing, but Mr. Sakakibara maneuvered his long level line with ease, each cast to any location at will, then used the wind to pick up his line just enough to make his kebari "hover" in a tight seam of flow across the river.  Then, with very subtle action on the kebari, he'd have a fish.  I'd never seen anything like that before. Another Example, Mr. Sakakibara made several casts upstream to the right bank, and then all of a sudden he made a cast downstream.  I asked why he changed his target and he replied, "I was looking upstream but I saw an Amago turn to feed in the water in the corner of my left eye…"  I remember nodding a few times but was actually thinking, "This man must have compound eyes!"   Mr. Sakakibara, I learnt is always aware of everything in his vision even when he's not looking at it.
Not an Overnight Success
In order to perfect his casting, Mr. Sakakibara used to practice for hours every night in a bank parking lot close to his home.  He did this for years. On his fishing outings, he regularly held a VHS in his left hand, while fishing with his right.  He studied over and over, his presentation and how fish responded watching his own videos.  He's fallen and broken his fingers a few times while filming (and fishing), but to me this is risking life for Tenkara.  It is not safe out there in the mountains. With his fierce determination to become a complete Tenkara angler, efforts and much time invested, Mr. Sakakibara has become undisputedly, the greatest Tenkara angler of our time.  The techniques Mr. Sakakibara displayed for me in Tōyama were all innovative and executed perfectly.  I wonder what kind of magic he's performing today.
The Kansa River Incident
I mentioned Mr. Sakakibara's ability to put "subtle action" on his kebari in my writing above.  I thought I must provide better details so readers can understand this better.  I apologize for my abstract writing.   So in this piece, I would like to describe what I had witnessed by the "Genji" bridge on Kansa River of Aichi Prefecture early in the season some years ago.
From Left Side of the Genji Bridge
Mr. Sakakibara walked down to the river and asked, "How is it?"   When I turned my head to reply, he was already stretching out his level line with one end tied to a tree branch. As usual, he is very quick and efficient. At 10 o'clock in the morning, the big pool by the bridge had been filled with many anglers, and the visible school of Amago showed no interest to any kebari or western flies.  It seemed they had already gotten their lessons on what kebari and flies look like.  My fishing companions Mr. I and Mr. N in distance were both shaking their heads indicating they weren't catching any.
After exchanging a few words, Mr. Sakakibara said "is that so…" and headed to a large boulder at the top of the pool, and made a single cast.  His level line reached out like a living creature.  On the end of his line was a very large kebari with a pheasant hackle and a peacock wrapped body.  It landed in the water gently and I could see the large kebari floating and drifting slowly.  In a short moment the kebari approached the school of Amago and the very first fish of the pack seemed to "wobble" slightly.  Mr. Sakakibara would not miss this with his compound eyes, and also assessed quickly that the fish was "willing".  All of this happened in just a short moment.  As soon as he saw the fish "wobble", he quickly tipped his rod to his left horizontally to the surface and gave "a few tugs".  His kebari skidded on the surface across the river just a few inches on every tug and the Amago came chasing after!  I opened my eyes bigger in effort to comprehend what I was seeing. When the Amago had caught up with the large kebari, Mr. Sakakibara stopped his kebari for a short second and then there was the bite!
My rod and other gear were all packed up and ready to go, so as a spectator and I was able to witness this closely and carefully. I could hear Mr. I with his western fly fishing rig saying "that man is good…." and Mr. N is twisting his head saying "how in the world did he do that!?". Mr. Sakakibara then replied by saying, "I just found a willing fish and got him to bite," like it was nothing. On the Kansa River this day, we witnessed Mr. Sakakibara's magic.  What more can I say?