証言1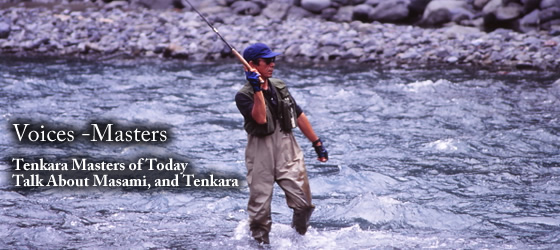 Kazunari Kimura
-Man Who Sees Tenkara Through Lens–
Kazunari Kimura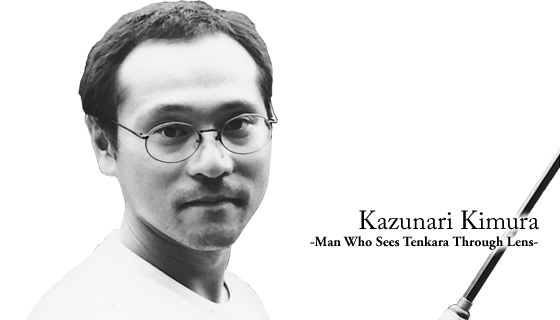 A Professional Photographer.  Expert Tenkara angler with over 25 years of experience.  Instructor at Nagoya Arts Institute.
Author of  "Tackle of The Masters: For Those Who Love Streams  "
(Meijintachi-no-Turidougu; Kawa-wo aisuru subete-no-hito-he) 1998
"Concerto Tenkara" (Tenkara Kyousoukyoku); Ningennsha 1999
Mr. Kimura's Tenkara Tackle
Rod: SHIMANO "Honryu Tenkara" ZE,    "Oni" Rod 4.5m
Casting Line: Fluorocarbon #2~#4.5  6m plus tippet
Uses variety of kebari and flies between #6~#18
Words of Oni
Kazunari Kimura
It was spring of 1999, when I first met Mr. Sakakibara.  I had heard quite a bit about him prior to our first meeting.   He was already known as the "Tenkara Magician", for his preference of very large kebari, and as a scary "Oni of Tenkara"… So I was nervous when I first met him, but the first impression of him was quite pleasant. He was a very kind and a sweet person.  That changed though, once he started fishing.  Indeed he was the Oni and a Tenkara Magician. He was a different person in a river. Since then, I have had many meetings with Mr. Sakakibara and slowly I have come to understand the depth of his Tenkara philosophy.  One thing he said to me early on that I remember is, "You have to make your kebari work harder than the actual bait." I used to believe that Tenkara will never be as effective as bait fishing.  I love Tenkara and I'm fine with not catching as many fish as I would bait fishing.  I was content with telling myself "that's okay because I enjoy that challenge in Tenkara."  Mr. Sakakibara helped me realize I was giving myself excuses.  If you demand yourself the highest level of techniques, Tenkara can be as effective as any kind of fishing.  "It's not the bait or kebari but it is you, who have the control", Mr. Sakakibara explained.  This cleared a lot of clutter in my head and gave me great confidence about Tenkara. Of course to our human eyes a kebari would not seem as effective as live bait, but that's not what Tenkara is about.  You have to make your kebari "seem more edible to a fish" by inventing techniques, whether by naturally drifting or adding "action" to it.
In my opinion Mr. Sakakibara is the best and the most effective Tenkara angler in Japan today. As a person he is honest and down to earth.   He doesn't try to become famous, make himself seem larger in figure than his actual self like many others do, or discriminate.  There's no wasted movement when he's in the rivers or in his casting and uses no unnecessary material on his kebari.  Like a straight arrow, he stays true to the laws of nature and fundamental logics.  That is Mr. Sakakibara.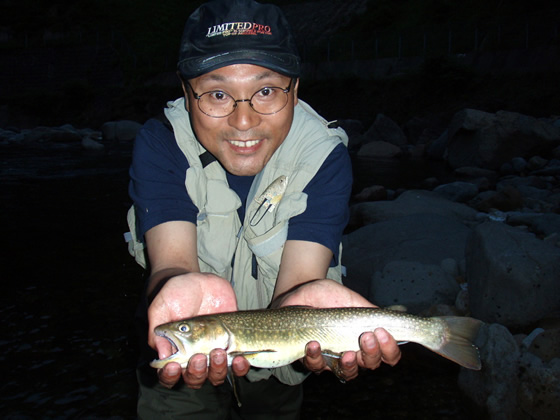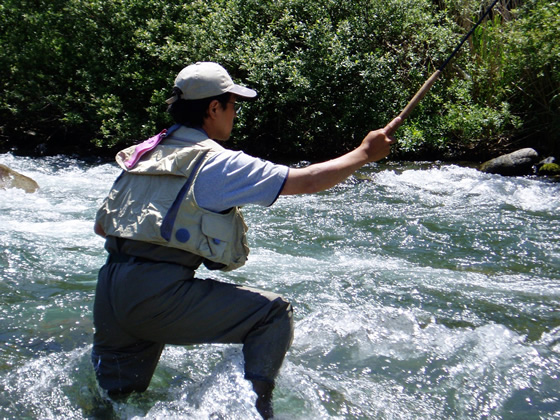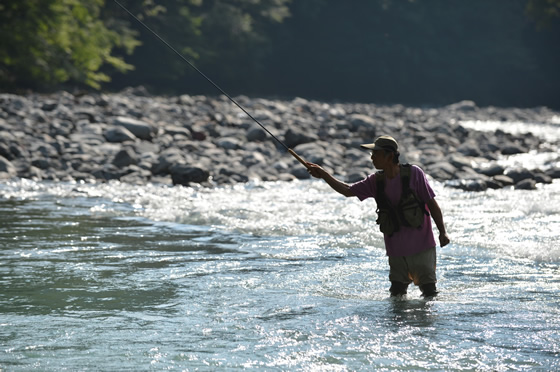 Photo above taken by Mr. Kazunari Kimura