テンカラの道具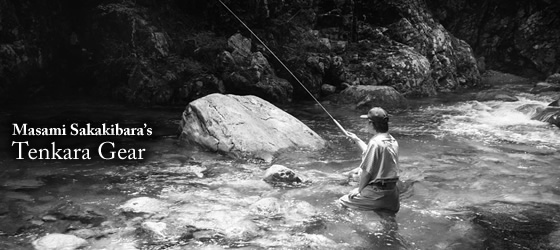 Oni's Choice of Tenkara Casting Lines (Not including tippet)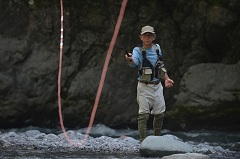 He uses mainly fluorocarbon lines from #1.5 ~ #3 Japan specs (8lb~ 14lb)
in green,pink or orange for visibility in all conditions.
He also uses nylon lies, hand-made fluorocarbon tapered lines, nylon tapered
lines, and traditional horse tail tapered lines.
Which casting line he chooses would depend on the river, other conditions,
and how he wants to fish that day..
For Reference (Level Line):
Small Streams 3.0 m ~ 4.0 m #1.5
Mid-Size Streams 4.0 m ~ 6.0 m #2.0
Large Streams 5.0 m ~ 8.0 #2.5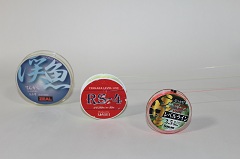 Left: ZEAL Tenkara Level Line #3.5
Center: SANSUI Level Line RS-4 #4
Bottom: SUNLINE "Buttobi"
Tenkara Level Line 3.5
*He uses SUNLINE level line the most. Dark orange is the easiest for him to see.