テンカラの道具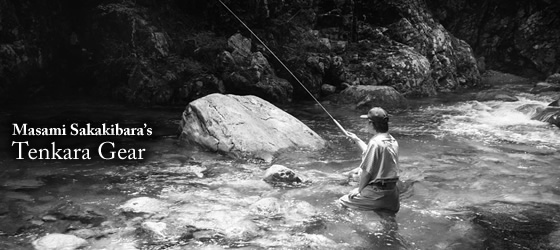 Oni's choice of Tenkara Rod
He's known for his long level line, but Masami enjoys Tenkara in all kinds from fishing the mainstreams to headwaters. The type of rod he chooses to use all depends on size of river and conditions.
Fishing in small streams with over-hanging trees, or other obstacles make it difficult to cast.  To avoid line trouble, he prefers fast action (7:3) 2.7 m ~ 3.0 m rods.
In mid to large streams with enough space to cast a long line, he prefers medium action (6:4) 4.0 m~ 4.5 m rods. His favorite rods are those he designed. In the picture below is a rod that means a great deal to him. A traditional bamboo Tenkara rod he got when he was still learning how to fish from his father.
His Current Rods (from top to bottom)
1. Oni Rod Urushi  Length: 3.2m
Grip: EVA   Weight: 82 g   Sections: 8   Collapsed Size: 51cm
2. No Brand Tenkara Rod (One of his favorites for over 25 years) Length: 3.2m
Grip: Bamboo Weight: 100 g  Sections: 8  Collapsed Size: 48.5cm
3. Gamakatsu Gensuisai Length 3.4m
Grip: Cork  Weight: 74g  Sections: 8  Collapsed Size: 57cm
4.Oni Rod type1 Length:4.0m
Grip:Cork Weight:70g Sections:8 Collapsed Size:63cm